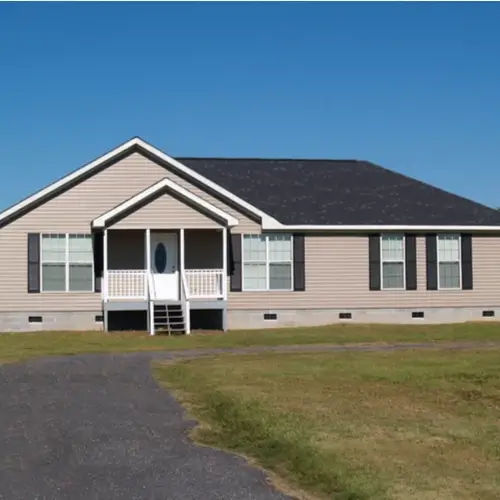 The average home price in the U.S. has jumped significantly over the past few years, forcing potential home buyers to reexamine their wants and needs when it comes to housing. One more affordable option - that actually makes up 10% of all single-family homes - is a manufactured home. For example, while the average cost of a traditional site-built home was $391,000 in April 2021, a manufactured home cost less than a third of that at $100,200. Perhaps that is why there are over 18 million Americans living in over 7 million manufactured homes across the country.
If you're interested in taking advantage of this less expensive path to homeownership, you may still need a mortgage. Fortunately, there are plenty of lenders out there with loan programs specifically for manufactured home purchases. Here's what you need to know:
What is a Manufactured Home?
A manufactured home is one that is built at a factory and later moved to its more permanent location. While your mind may automatically think of single- and double-wide trailers – which are manufactured homes – there are a lot more options these days. Some models are over 2000 square feet, with four bedrooms, multiple common spaces, covered porches and more.  And since 1976, manufactured homes have to be built to federal safety standards to earn that name. 
These types of homes differ from what are termed "modular homes," which are similarly constructed but are not always built to federal code. Also, in the factory, manufactured houses get a builtin trailer hitch and axles for transportation to their permanent location. 
Do All Manufactured Homes Qualify for Mortgage Financing?
There are certain requirements for a manufactured home to be considered for a mortgage. First it needs to have been built since 1976 when the Department of Housing and Urban Development started regulating the building standards of such structures. 
It also needs to have at least 400 square feet of living space, and in some cases, the house needs to be even bigger to qualify. For example, to secure a Fannie Mae conventional loan, you'll need to have more than 600 square feet. Most single-wides more than cover this amount.
The manufactured home must also be attached to a foundation and on land that you own or are buying. Lenders do not want to finance a building that might get picked up and moved without warning. 
What Loan Options are Available?
Government-sponsored entities like Fannie Mae and Freddie Mac both have conventional mortgage options for manufactured homes. Fannie Mae's MH Advantage loan, for example, is a good choice when you're buying a newly built home from a Fannie Mae-authorized manufactured home maker. For Fannie and Freddie loans, you can often put as little as 3% down, and although you may have to pay some risk-based fees, mortgage interest rates are typically near other conventional rates. 
The Federal Housing Administration also has a program that can finance manufactured homes. The FHA Title II loan is very similar to a traditional mortgage and allows for down payments as low as 3.5% and credit scores as low as 580.
And if you meet the requirements for their services, the VA and USDA both offer home loans to cover manufactured house financing with very favorable terms.
When searching for a home in today's hot market, buying a manufactured home with a mortgage loan may be the perfect affordable way to jump into homeownership.
Give us a call today to see how we can help you out.
These materials are not from HUD, VA, or FHA and were not approved by HUD or any other government agency.