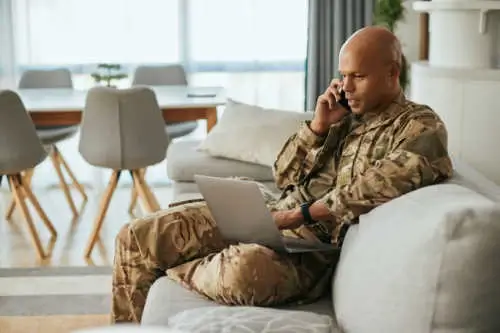 If you are buying a home that is priced significantly above the region's average, traditional loans may not be able to cover the size of your purchase. In this case you'll need a jumbo loan. And if you're a veteran or active-duty military member, there are also jumbo VA loans to fit the bill.
What is a Jumbo Loan?
A jumbo loan is a mortgage for an amount over the conforming loan limit. Government-sponsored entities like Fannie Mae and Freddie Mac help make homeownership more available to Americans by making lending less risky for lenders. If lenders make loans according to the rules set by Fannie and Freddie, they can sell those mortgages back to the GSEs and immediately get them off their books, freeing up capital to make more home loans. One of those GSE rules is that the loans must be under the conforming loan limit that Fannie and Freddie set each year, based on the U.S. median home price. Certain areas like California, Hawaii, and New York City have prices way above the national media; these places have higher conventional loan limits. 
Even in these areas a decent-sized home can sometimes cost more than the conventional limit, and jumbo loans are required. 
How Are Jumbo VA Loans Different Than Regular Jumbo Loans?
If you are applying for a VA jumbo loan, the good news is that you get some excellent benefits compared to your non-military counterparts. VA jumbo loans do not have preset loan limits. They do not require private mortgage insurance (PMI) and they do not come with prepayment penalties. And perhaps the best perk: VA jumbo loan interest rates tend to be the same as traditional VA loans. Regular jumbo loan rates are typically higher than conventional interest rates.
Am I Eligible for a VA Jumbo Loan?
To be eligible for a VA jumbo loan, you need to be an active-duty service member, veteran, or surviving spouse. The home you are purchasing must also be your primary residence and must be able to pass safety and termite inspections.
What are the Qualifications?
Credit Score – Your lender may require you to have a higher FICO credit score for a jumbo VA loan than for a traditional one. Where you may be able to qualify for a normal VA mortgage with a score of 580, a lender might want to see a score of 720 or higher for a jumbo VA loan.
Down Payment – Although traditional VA loans are famous for their 0% down payments, you may have to contribute something with a jumbo VA loan. It depends on how much of your VA entitlement you are currently using. If you already have a VA loan on another property or you've had a previous foreclosure or short sale on your record, you may have to put some money down. If you qualify for your full entitlement, no down payment will be required.
Debt-to-Income Ratio (DTI) – For a VA jumbo loan your debt-to-income ratio has to be 50% or lower. This means that your outstanding debt, including your new VA loan payment, cannot make up more than half your income. 
If you still have questions about whether you qualify for a VA jumbo loan, contact us for more help.
These materials are not from HUD or FHA and were not approved by HUD or a government agency