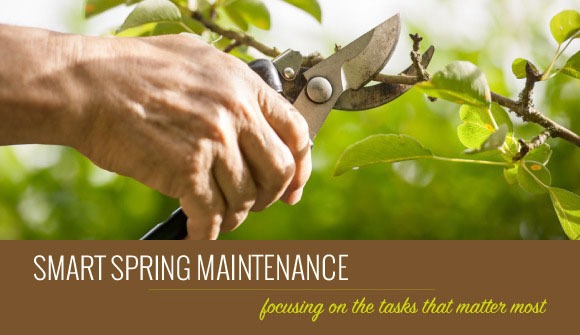 As the seasons change, so do your home maintenance responsibilities. And now that it's spring, your roster of chores can quickly fill up.
Rather than getting overwhelmed by a long maintenance list, why not focus on the tasks that matter most? Here's a short list of some of the most essential springtime checks and repairs that'll keep your house looking good and functioning at its best.
Clean the gutters. Remove leaves, twigs and other debris, and check gutter components for leaks and to make sure attachments are working correctly. Overlooking this task can mean roofing, siding and wet basement troubles down the road.
Inspect the roof. Look for loose or curling shingles and cracks in chimney flashing (binoculars help if you're wary of ladders), and check the attic for leaks. Colored grit from shingles in the gutters may beanother sign that your roof needs repair.
Fill sidewalk and driveway cracks. Inspect the pavement or asphalt for cracks and other problems. Small fissures can be repaired with liquid filler; use patching products for bigger gaps. Then consider sealing the surface to protect your work.
Prune damaged trees. Broken or dangling branches create hazards around your home. If tree damage is minor and within reach, remove hanging branches and prune broken limbs yourself. A bigger job should be parceled out to a pro.
Service your air conditioner. This is a task that can literally pay off by lowering your cooling bills in the coming months. Maintenance involves cleaning and vacuuming the outdoor unit, checking coolant levels, oiling necessary moving parts and changing the filters inside. If you're not interested in doing the maintenance yourself, many pros and companies offer annual service plans.
If you're more ambitious, you can work through a more extensivespring checklist here.